Mission & History
Mission
Camperdown Academy educates gifted and capable students with dyslexia in a supportive and engaging learning environment, empowering them with skills and self-confidence to achieve academic success, and inspiring them to reach their full potential.
History
Camperdown Academy opened its doors in 1986, the first school of its kind in the Upstate of South Carolina. The school was founded by a group of parents who were concerned about the lack of educational opportunities for their bright dyslexic children. The first Head of School was Mrs. Grace Hill, a long-time educator and psychologist who had experience both teaching and developing learning disabilities programs. Classes were held on the second floor of Eastlan Baptist Church. The focus of the school was teaching children to compensate for their learning disability through a multi-sensory, individualized approach, with a small student to teacher ratio. The school grew quickly, and in 1991 moved into the old Junior Achievement building on Howell Road. In 2015, the Board of Trustees began to plan for a new campus to address the need for additional capacity. A five million dollar capital campaign allowed the new school to open for students on August 20, 2018.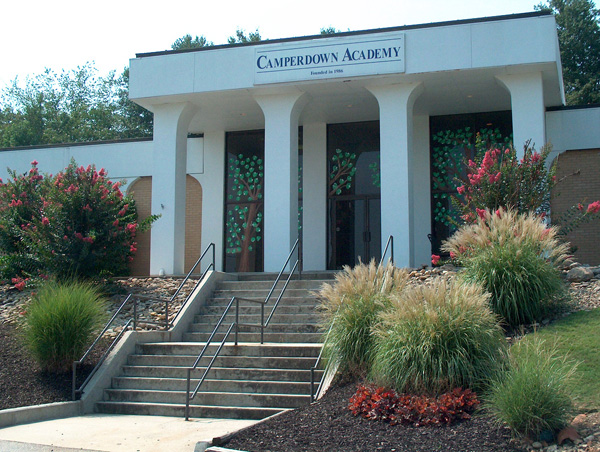 GUIDING PRINCIPLES
At Camperdown Academy, the intellectual, social, and emotional growth and development of our students is promoted through the combined efforts of faculty and staff, parents, students, and trustees:
Our students are actively engaged in their own learning, open to new experiences, appreciate the joy of effort, demonstrate respect for their peers and their teachers, and embrace the challenges and opportunities that each day provides.
Our faculty and staff model the school's values and are committed to the school's Mission. They are passionate about education and working with students who have learning differences and work collaboratively with colleagues and parents for the betterment of each child
Our parents endorse Camperdown's Mission and Values, encourage and support their child/ren, and serve as dynamic and supportive partners with the school in meeting student needs and promoting student success.
Our trustees further the school's mission and vision, ensuring the viability of the institution, and promoting a vibrant and sustainable future through their active service and support.
Our school community reflects the pride of shared purpose and common values:
Learning – We believe learning is a life-long process that begins with an excellent education that meets the individual needs of each student.
Community – We believe that everyone thrives in a safe and welcoming community that fosters a family-like environment and promotes well-being, belonging, and respect for oneself and others.
Potential – We believe that each student has their own unique gifts and talents, which we seek to draw out, strengthen, and encourage so that they might tap into – and realize – their full potential.
Advocacy – We believe that promoting advocacy – for parents, for educators, for the public at large – and self-advocacy (in our students), will forage the way for a greater understanding of dyslexia, help to de-stigmatize learning differences, and empower students with dyslexia to become confident learners.