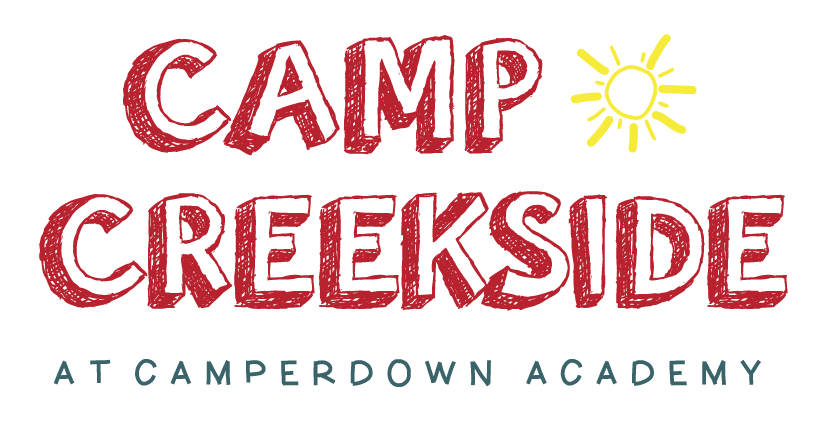 June 12 - June 30, 2023
July 10 - July 28, 2023
Click here for new applicants
Click here for returning applicants and Camperdown students

Founded in 1995, Camp Creekside is an educational summer program for students in rising K5-8th who struggle with dyslexia or other language-based learning differences. Each camper will have an individualized program that is tailored to his or her academic needs. All classes are taught using multisensory techniques that encourage academic success.

Camp Creekside is staffed with enthusiastic, well-trained teachers who provide our campers with the individualized attention necessary for substantial learning and growth. All tutors are trained in Orton-Gillingham Approach.

Five days each week, campers will engage in a structured, multisensory educational program that includes:
Orton-Gillingham Tutorial
Multisensory Math
Language Enrichment
Creative Arts
Keyboarding (optional)
Academics are provided in small class settings. Campers receive daily 1:1 or 2:1 Orton-Gillingham (OG) language instruction and 6:1 math instruction. OG is widely considered the best approach for readers and writers with language-based learning differences.
8:00-8:45 Keyboarding (optional)
8:45-9:00 Arrival
9:00-9:45 Tutorial
9:45-10:30 Multisensory Math
10:30-10:50 Snack & Recess
10:50-11:35 Language Enrichment
11:35-12:20 Creative Arts
12:20-12:50 Lunch
12:50-3:00 Afternoon Adventures
3:00-3:10 Carpool


Afternoons are filled with a variety of engaging and fun activities that promote social growth and build self-esteem. Adventures include activities such as swimming, hiking, roller skating, and rock climbing.

An optional keyboarding class is available to campers. The skill is taught using a ten-finger alphabetical approach to typing called the Diana King Method. The class is offered on a first-come first-served basis for students ages 9 and up.

An online application must be submitted along with current psychological testing. The testing should include an assessment of intellectual ability and measures of academic achievement which establish basic academic skill levels and define the nature of the learning difficulty.
Referrals to local psychologists for testing are available upon request.

Camp: $2,000 (per three-week session)
Keyboarding (optional): $100