Sports & After School Activities
Camperdown offers a variety of optional after school programs. These are designed to promote physical fitness while building additional valuable skills. For example, students learn to work with other classmates as a team member. Coaches reinforce language skills and students practice listening, sequencing, processing, and articulation skills in a more relaxed, informal setting. All teams emphasize sportsmanship, camaraderie, and skill growth.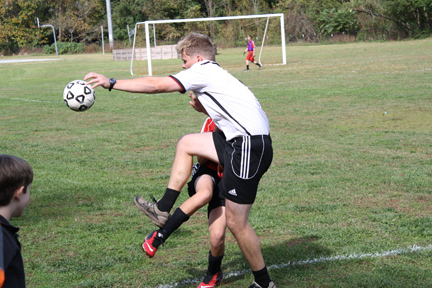 Younger students may choose to participate in a rotating list of options. Previously offered activities include roller skating, soccer, basketball, gaga ball, nine-square, kickball, and ultimate Frisbee. These activities are intramural and focus on building teamwork and gross motor skills. Sport-specific rules and foundational skills are introduced. Student interest and instructor availability guide the process for selecting activities.
Middle school students may join competitive sports teams. Three sports seasons include fall soccer, winter basketball, and spring tennis. Soccer and tennis are co-ed while the basketball season features separate teams for boys and girls. A year-end awards banquet recognizes student achievement in improved skill, outstanding effort, dedication to the team, and overall performance.
After School Sports
Monday: Dance - Click Here for Application
Tuesday: Coach Good Stretch-N-Grow Sports
Wednesday: Roller Skating
Thursday: Coach Good Stretch-N-Grow Sports